YOUR OBEDIENCE, GOD'S PROMISE, OUR COMMUNITY
Antioch's Capital Stewardship Campaign is grounded in our vision of a 100-Year Continuity of Ministry. Fueled by mission, ministry, teaching, spiritual growth, discipling and stewardship, we are a chosen generation of royal priesthood-faith-walkers. "Not Equal Giving Amount, But Equal Sacrifice" is the goal and the prevailing theme of Antioch's 2014 Capital Stewardship Campaign. Our Campaign Title, "Your Obedience, God's Promise, Our Community" is the quintessential statement that becomes our banner, our guide. We will endeavor to be guided by the spirit of our title. By the fruit of OBEDIENCE and in giving God all the glory and all the praise is God's PROMISE of meeting the COMMUNITY'S spiritual, emotional, and physical needs by making and growing healthy disciples.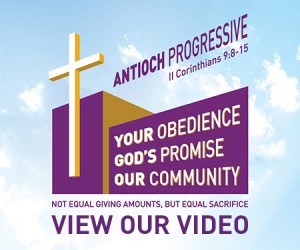 Through our sacrifice driven by the power within our prevailing theme we will fulfill God's plan within the 4 phases of our Capital Stewardship Campaign. God has blessed Antioch in supporting our ministry during the economic crises of 1990 to the present. Our anchor scripture, II Corinthians 9:8 is a promise fulfilled time and time again, "And God is able to make all grace abound toward you, that you, always having all sufficiency in all things, may have an abundance for every good work." We are still standing and we still remain focused and obediently pressing toward the mark of the higher calling.
The challenge is to raise $3M from June 2014 to June 2015. The miracle goal is $13M by the end of June 2015. We are Blessed to Be a Blessing for such a time as this. And, so we submit that the outcome, the blessing will flow from and through this campaign. Will you join us in this miracle?